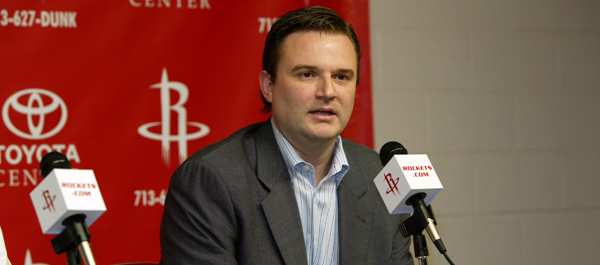 Looks like
Moneyball
Morey
has struck again at the trade deadline.
The Houston Rockets have made a late night trade multi player trade involving TMac for Kevin Martin.
Houston Chronicle Article Here
The official breakdown is 7 players swap teams, 3 of them not
scrubs
. Those three are
TMac
(laughable),
Carl Landry
(Rockets) and
Kevin Martin
(Kings).
Now we all know that trading two expiring contracts for a multiyear contract will open the door for some wiggle room this offseason, but how much? The Rockets, if they plan on getting a superstar, will still need to unload.
HERE
is a list of the salary breakdown for the Rockets.
In my opinion the Rockets are paying two guys to play half the court (Kevin on offense, Trevor on D). These guy's contracts put together will go up from the say 16-17 mil range to over 20 in a couple of years. Is it worth it to pay these two guys 20 mil when we could go after a superstar like DWade or Bosh? Some might say yeah since we just got out of the diva drama a superstar brings, but to me this doesn't sync with the development of Yao.
Yao is (when healthy) an offensive superstar and I still feel having a quality slasher really opens up his mid range shot. I also think that the Rockets were anticipating Trevor to be this and now they are hoping Kevin can be this. I think that Kevin is a scorer in this league but has no defense. It's almost like trading for a mini Mac.
Looking ahead to the offseason...
The Rockets would be smart to try and restructure Yao's contract and go after another big body, one with a defensive presence.
Say that they do restructure and are in position to get someone like Bosh this offseason.
His contract will be in the 20 mil range, can you resign Scola at that point?
If the Rockets intend to resign Scola, it will probably cost them 4.5 - 5 mil a year for a contract.
If this were done, minus any callups or draft picks, the lineup would look like this:
C- Yao
PF-Bosh
SF-Ariza
SG-Martin
PG-Brooks
Where is the defense? Martin and Brooks are exploited quite a bit, we all know what to expect from Yao, and Ariza would be stellar. So basically, we don't have much on D and coupled with Adelman, the Rockets plan on playing small ball for a while now. One question though, how does a 7'6'' 300+ pound guy fit in to that system? He doesn't and will get injured again trying to keep up.
So to get back on track with this whole trade, Kevin Martin is a good pick up for the price but you just sacrificed heart to get that. Let's hope Moneyball Morey has got more up his sleeve today because we really need some size and D.